By Admin | David , Miscellaneous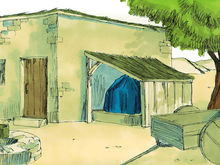 King David wanted the Ark of the Covenant of God near him, so he arranged for it to be brought into Jerusalem on a cart as part of a huge celebration. However, the oxen pulling the cart stumbled and the ark wobbled. Tragically, a man called Uzzah who was driving the cart put out his hand to steady it and was struck dead by God.
The celebration was cancelled and the ark was moved into the nearby house of a man called Obed-edom. This event is the subject of a micro-tale found in Fiction Favours the Fact – Book 3.
Since I wrote that story, several people have asked me questions about this man, Obed-edom.
These questions have revolved around who Obed-edom was, his nationality and possible genealogy. The reasoning behind the questions seems to be that David would not be likely to put the Ark of the Covenant in the care of a man who was not even an Israelite. As an intriguing follow-up to this idea, a search of the Bible shows that the name Obed-edom is not unique, but we'll get to that later. Continue reading