By Mark Morgan | Miscellaneous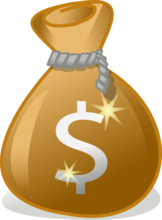 Based on a booklet "The Stewardship of Money" written in England during the 1940s by F. Mitchell and revised by Mark Morgan, November 2021.
Chapter 1 – Why Should We Give?
a.    Because we ourselves, and all we have, are God's
The Christian life begins when we receive Jesus Christ as our personal saviour. It was by his coming into our lives that we became Christians at all. No doubt when we first came to him, it was with a sense of frustration or a burden of sin and helplessness, and our conscious need was to receive forgiveness, peace and power. These, we discovered, were available only in Christ, and, receiving him, we enjoyed the gifts he always brings.