By Mark Morgan | Miscellaneous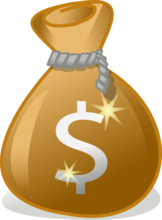 Money is mentioned more than 200 times in the Bible, starting with God's requirement that even slaves bought with Abraham's money had to be circumcised as part of God's covenant with him (Genesis 17:12-13).
Money in the Old Testament
In the Old Testament we are often told of God blessing those whom he loved by giving them riches: Abraham (Genesis 13:2; 24:35); Isaac (Genesis 26:12-13); Job (Job 42:10); David (1 Chronicles 29:28); Solomon (1 Kings 3:13; 10:23); Jehoshaphat (2 Chronicles 17:5; 18:1); Hezekiah (2 Chronicles 32:27). In fact, there is frequently a connection between righteousness and the blessing of riches, particularly in Psalms and Proverbs (Proverbs 10:4, 22; 22:4).
Yet in all of them, there is the repeated warning not to set our heart on riches. There is a warning that if riches are too important to us, we will fail (Psalm 62:10; Proverbs 11:4, 28; 27:24).
Continue reading