By Mark Morgan | Jeremiah , Jesus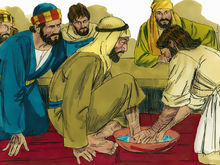 In the last year we have all become familiar with calls to wash our hands frequently. With COVID-19 spreading across the world, everyone has been told to use soap, hand sanitiser and disinfectants, and now we are being encouraged to take a vaccine as soon as we can. How does this compare with washing in Bible times?
"Hand-hygiene" and "social distancing" are on everybody's lips as we try to avoid the disease and save lives.
Here in Victoria, Australia, we are told, "Wash your hands regularly for at least 20 seconds, using soap and water or use a hand sanitiser that contains at least 60 percent alcohol."[1]Victorian government page on Hygiene and physical distancing: https://www.dhhs.vic.gov.au/staying-safe-covid-19.
Many people have observed that the Law of Moses has a strong concentration on cleanliness and frequently mentions washing, and it is not the only part of the Bible where this is true.
Continue reading